Natural formula for weight control Bella Linia, Terezia, 60 capsules
Vegan
Herbal food supplement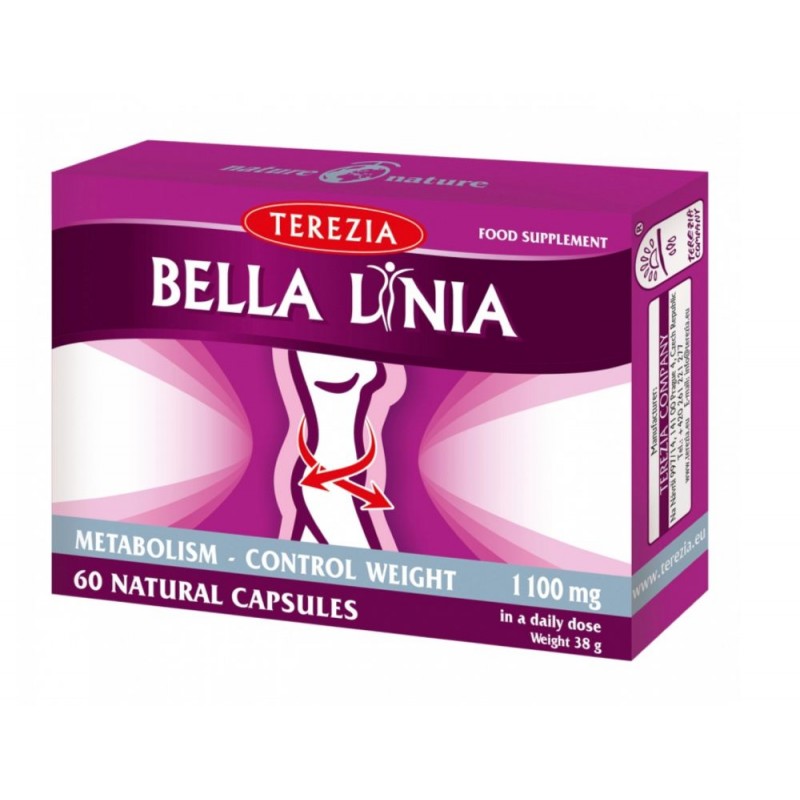 
Natural formula for weight control Bella Linia, Terezia, 60 capsules
Vegan
Herbal food supplement
Food supplement, 60 capsules.
Effective formula of natural products for weight control.
A unique combination of 5 herbal ingredients to help control weight and break down fat.
Suitable for gluten-free diets.
Suitable for celiacs, vegetarians and vegans.
A unique combination of 5 herbal ingredients to help control weight and break down fat. The product is intended for anyone who wants to maintain or reduce their body weight. It is high in fibre, thanks to desert Indian wheat (psyllium) and sea buckthorn for easier digestion. This achieves a complex, so-called synergistic effect of all the ingredients.
BENEFITS:
GUARANA AND YERBA MATE
* helps control weight and contributes to the breakdown of lipids
MILK THISTLE
* supports digestion and contributes to detoxification
PSYLLIUM
* increases fibre intake
ENZYME BROMELAIN
* helps to break down proteins, facilitates nutrient absorption and may also facilitate weight loss
INGREDIENTS:
1 capsule contains 550 mg of the BELLA LiNIA blend: milk thistle (Sylibum marianum) 200 mg, milk thistle powder (Plantago ovata) 150 mg, guarana powder (Paullinia cupana) 100 mg, Yerba Mate (Ilex paraguairens) leaf extract 50 mg, Inonotus obliquus (Inonotus obliquus), sea buckthorn (Hippophae rhamnoides) extract.
Capsule shell: cellulose
RECOMMENDED DOSE:
1 capsule twice a day 30 minutes before meals.
Take a capsule with sufficient water.
Swallow the whole capsule or open it and sprinkle the contents on food or in water.
WARNINGS:
Food supplement. Not suitable for children under 18 years of age, pregnant or breastfeeding women. Keep away from children.
Do not exceed the recommended daily dose. It is not a substitute for a balanced and healthy diet and lifestyle.
Store in a dry place at a temperature below 25 °C.
Take the capsule immediately after removing it from the blister pack.
Daily fluid intake should be at least 2 litres.
Do not use in patients with hypersensitivity to any of the ingredients
Svoriui, cholesteroliui reguliuoti
Out of stock
Vegan