Tea with essential oils Good Night, Yogi Tea, 20 packets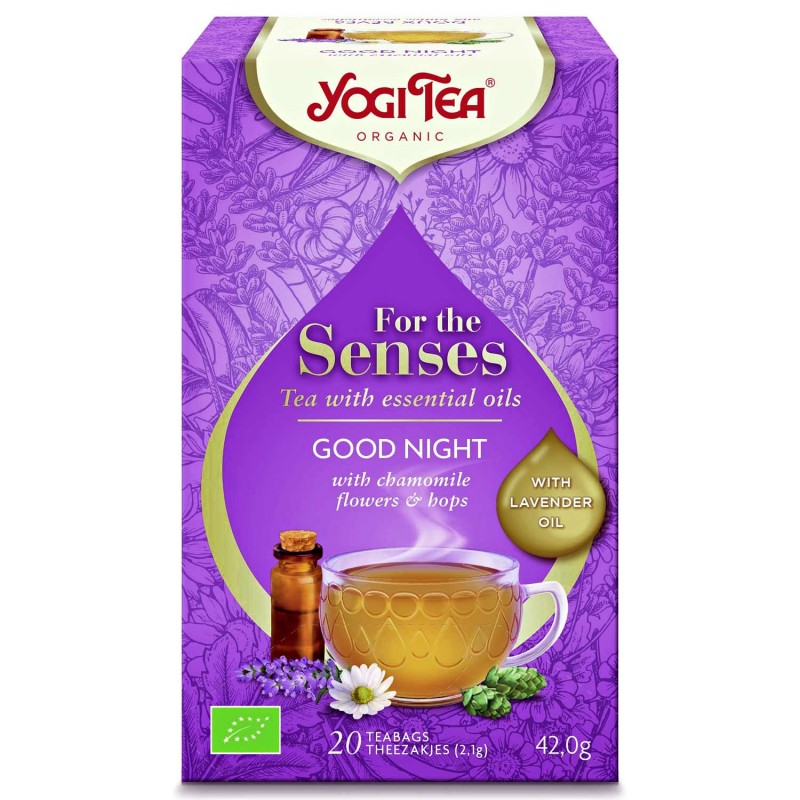 
Tea with essential oils Good Night, Yogi Tea, 20 packets
Organic herbal blend with lavender essential oil.
Take time for yourself and start a restful night!
YOGI TEA® Goodnight invites you to a pleasant journey in the kingdom of dreams. Enjoy pure organic lavender essential oil combined with delicate chamomile flowers and hops. It is a harmonious companion for a conscious end of the day, a pleasant quiet evening and a restful sleep.
Yoga tea as a gentle evening hug!
Preparation: Pour 1 tea bag into a glass of water (100° C), leave for 5-7 minutes.
Ingredients: fennel*, peppermint*, lemongrass*, chamomile flowers* (18%), lemon balm*, sage*, lavender flowers* (5%), cardamom*, hops* (1.5%), lavender essential oil * (1.4%), nutmeg*.
* the ingredients are from organic farms.
Allergens: listed in bold.
Storage conditions: store in a tightly closed container, in a dark, cool, well-ventilated place, no higher than +25 degrees.
Country of origin: Non-EU
Net quantity : 42g (20 packets of 2.1g each)
Best before: look on the package
Manufacturer: YOGI TEA GmbH, Germany
Out of stock
Vegan