Pure Asafoetida Hing powder, Maharishi Ayurveda, 50 g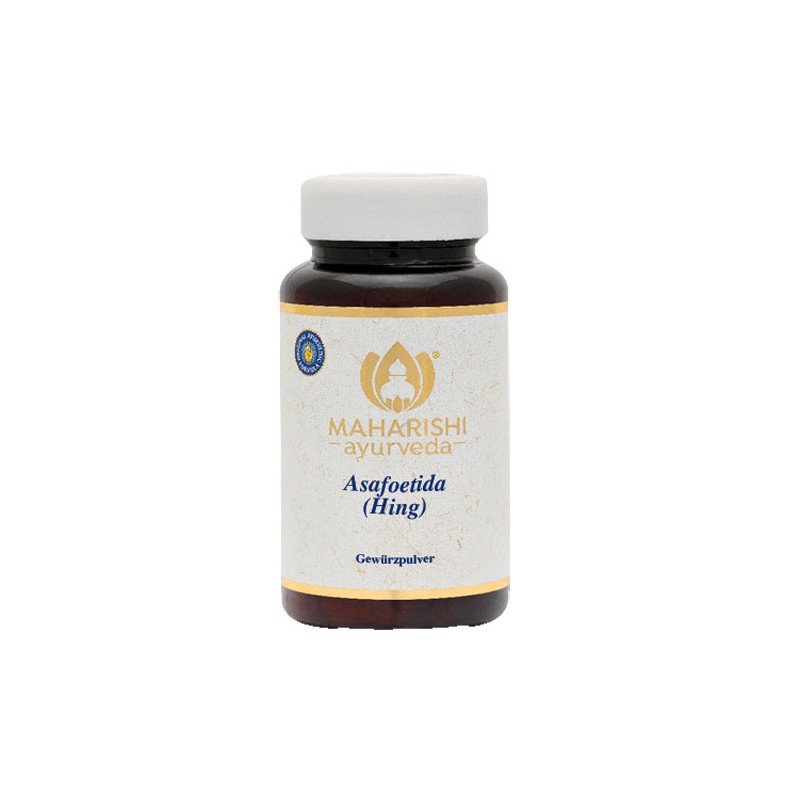 
Pure Asafoetida Hing powder, Maharishi Ayurveda, 50 g
Asafoetida, also known as Hing or Asant, is a popular spice whose beneficial properties are described in one of the oldest Ayurvedic texts, Astanga Hridaya.
Its distinctive intense aroma makes it very sparingly used (less than the tip of a knife). Asafoetida is an optimal alternative to onion and garlic.
The Vata-balancing properties of asafoetida are highly appreciated and it is ideal for flavouring bean, curry and dal dishes.
"Maharishi Asafoetida contains 100% asafoetida powder without additives.
With its spicy, unique flavour and distinctive aroma, even a small pinch of Ferula (also known as Asafetida) will add a unique aroma to your dishes.
This is particularly pronounced when it is first fried in hot ghee or oil. When roasted with other spices, it is perfect for flavouring lentil soups, vegetable dishes and spicy fruit sauces.
In Lithuania, the most common mix of asafetida with rice flour, turmeric or fenugreek is commonly found and used. When using pure asafetida, half as much should be added. The aroma of asafetida is reminiscent of a strong-flavoured, fermented cheese on the one hand, maybe a little black truffle on the other, and of onion and garlic on the other. The aroma of asafetida is close to the onion family thanks to its sulphur compounds, i.e. the same essential oils, as well as the di-, tri- and tetrasulphides that are characteristic of asafetida.
The presence of asafetida in food mimics eggs, garlic, onions, meat, truffles (fungi). Asafetida is used, usually in very small quantities, to impart a distinctive savoury flavour to salty, spicy and sometimes sweet dishes. When cooking with asafetida, take some of its powder and toast it for a few seconds in hot fat along with other spices before adding it to the dish. Add asafetida to pulses and potatoes, rice, mixed vegetable dishes and baked snacks. As the aroma of pure asafetida, not mixed with rice flour, is much more pungent and intense than that of commercially available flour mixtures, use half as much of it in a dish.
In India, asafetida is very widely used. It is an essential food ingredient and dishes that are more difficult to digest, such as pulses or potatoes, should always be prepared with it. Asafetida tastes spicy and hot, increases appetite, ignites the digestive fire, tonicity, and its use in food prevents the accumulation of gas in the intestines, i.e. flatulence, and facilitates digestion.
Ayurveda attributes the strongest antimicrobial and bactericidal properties to asafetida.
This Southeast Asian spice should be in every kitchen. It is mainly used in combination with ginger, cardamom and rock salt. It is available as a powder or paste.
Due to its strong garlic smell, it is best to store asafetida in an airtight, closed container. Unlike garlic, it does not have a tamasic (dulling) effect on the mind and senses. According to Ayurveda, asafetida strengthens the agni (digestive fire) and calms the Vata dosha (air/ether element).
Ingredients: asafetida 100%.
Country of origin
Storage conditions: Store in a dry, cool place
Net content: 50 g
Best before: see packaging
Out of stock
Vegan
Organic
Out of stock
Organic