Ayurvedic massage ball skin aromatizer Harmony Skin Roll-On, Energyliner, 10ml
Organic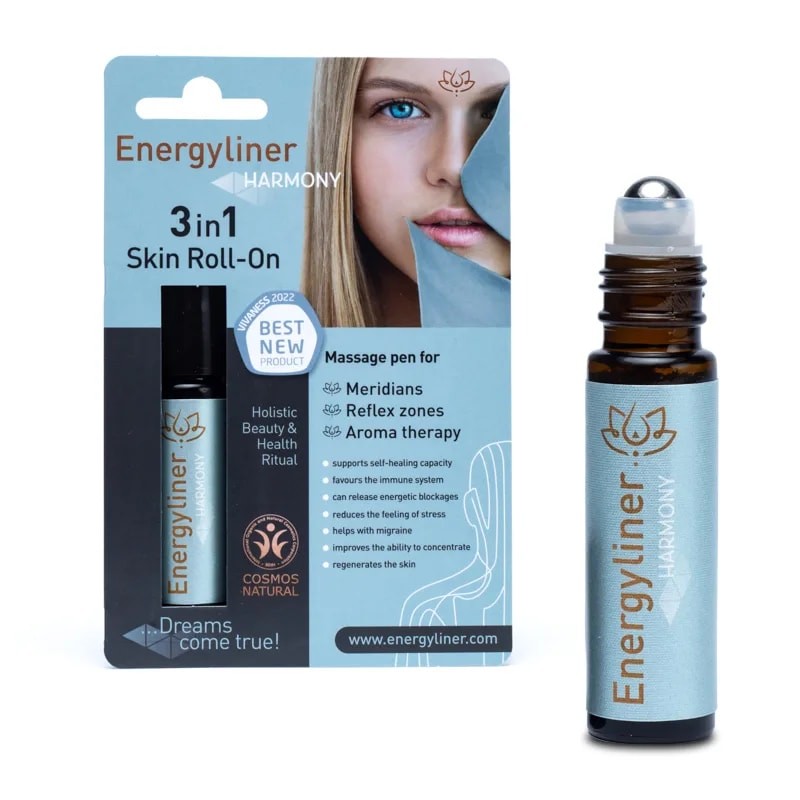 
Ayurvedic massage ball skin aromatizer Harmony Skin Roll-On, Energyliner, 10ml
Organic
"Himalaya's Dreams Natural Ayurvedic Shampoo with Coconut and Argan is a natural remedy for hair and skin. It revitalises curls and shine, protects against heat damage and creates soft and shiny hair.
"Himalaya's Dreams Energy Liner Harmony harmonises body, mind and soul, activates the powers of self-healing and ensures complete well-being.
The secret of the positive effects lies in the exclusive Ayurvedic herbs, which are processed through a long process into precious certified body oils.
Energyliner Harmony: Has a reducing effect on Vata and Pitta and balances Kapha. Harmonises body, mind and soul, moisturises skin.
3-in-1 Skin Massage Roll-On:
Reflex Zone Therapy: Stimulates lymphatic drainage, reflex zones and skin regeneration.
Meridian Therapy: Relaxes energetic blocks, stimulates the body's self-healing powers and immune system.
Aromatherapy: relieves stress, lifts mood and improves concentration.
How to use:
Roll the Energyliner on the facial meridians.
Stimulate the reflex zones and acupressure points with circular movements, breathing consciously and calmly while enjoying the pleasant aroma of Energyliner.
About the product:
* COSMOS Certified Natural Energyliner
* "Winner of the Vivaness Best New Product 2022 in Natural Cosmetics
* No animal testing or ingredients
* No artificial additives, parabens, sulphates or silicones
* Fairtrade
Ingredients (INCI): Sesamum Indicum Seed Oil*, Oryza Sativa Bran Oil, Cedrus Deodara Wood Oil, Helianthus Annuus Seed Oil*, Asparagus Racemosus Root Extract, Glycyrrhiza Glabra Root Extract, Hemidesmus Indicus Root Extract, Prunus Amygdalus Dulcis Oil, Viola Odorata Extract, Daucus Carota Sativa Seed Oil, Cananga Odorata Flower Oil, Nigella Sativa Seed Oil, Triticum Vulgare Germ Oil, Citral**, Tocopherol, Santalum Album Extract, Glycine Soya Oil, Linalool**, Onosma Hispidum Root Extract, Limonene**, Geraniol**, Benzyl benzoate, citronellol**, benzyl salicylate, farnesol**
* from controlled organic production
** part of natural essential oils
---------------------------------------------------------------
"Himalaya's Dreams" - the best of nature for body and soul
Himalaya's Dreams offers high quality natural products that are perfect for both cosmetic and therapeutic applications. Located in the Bavarian Forest of Germany, near the Three Rivers town of Passau, the company focuses on certified Ayurvedic natural cosmetics. Himalaya's Dreams body oils, shampoos, mouth oils and hair oils are made according to the best of the traditional Ayurvedic teachings of health in the field of cosmetics and therapy.
Bringing countries, their people and their cultures closer together is close toHimalaya's Dreams' heart. Best working conditions, fair trade and a friendly partnership between Germany and India are their priority. Transparent, fair and environmentally friendly: HIMALAYA'S DREAMS natural cosmetics are controlled from the production of raw materials to the final product. Regular visits to the production sites in India and Germany ensure that the very high COSMOS STANDARD is met. Dreams come true...
Out of stock
Vegan
Organic
Out of stock
Organic