Giloy Guduchi, Jiva Ayurveda, 60 capsules
Vegan
Herbal food supplement
Authentic Ayurveda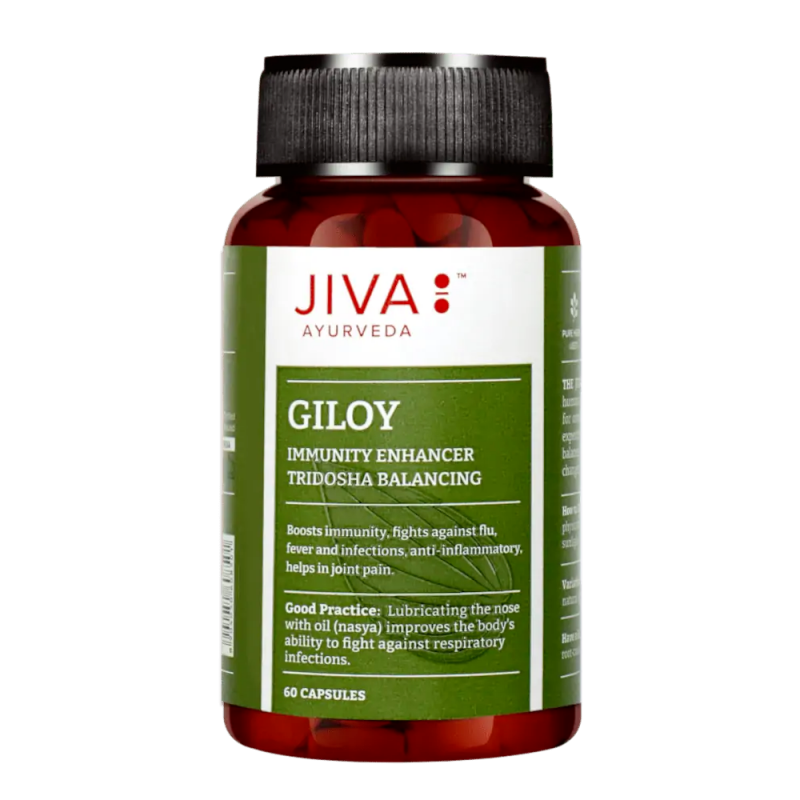 
Giloy Guduchi, Jiva Ayurveda, 60 capsules
Vegan
Herbal food supplement
Authentic Ayurveda
Supplement
60 capsules of 450 mg
100% natural origin vegetarian and vegan formula product developed by Ayurvedic experts.
Giloy is an effective and efficient supplement of heart leaf that helps to maintain joint health and normal functioning of the immune system !
Vata = Pitta = Kapha =
Giloy (Guduchi) balances all three doshas!
Claims approved by the European Food Safety Authority for nutrients contained in the product:
* Helps maintain joint health by thoroughly cleansing the body.
* Helps to stimulate the immune system.
* Heartleaf ragweed can help regulate blood sugar levels, support the cleansing process in the urinary system, and keep the urinary tract in good condition.
Ingredients (in 1 capsule):
Capsule weight: 450 mg
Amount of herbs per capsule: 450 mg
1 capsule:
Guduchi (Tinospora cordifolia) - 450mg
Capsule shell (vegan capsule):
glazing material - Hypromellose / Hydroxypropylmethylcellulose (Hypromellose).
Contains no flavorings, colorings, sugar, sweeteners, lactose, soy, gluten, wheat, yeast, preservatives, gelatin or soda.
Usage : for adults, take 1 capsule 2 times a day with a glass of water after a meal. To achieve a better effect, it is recommended to use it for at least 2-3 months. One package is enough for 1 month.
Warnings: Do not exceed the prescribed recommended dose. The food supplement should not be used as a substitute for food. A varied and balanced diet and a healthy lifestyle are important. If you are sick, taking medication, pregnant or breastfeeding, we recommend that you consult your doctor regarding the use of a food supplement. Stop use and consult your doctor if side effects occur.
Store in a dry place at room temperature, out of the reach of children
Country of origin: India
Manufacturer: JIVA Ayurvedic Pharmacy Ltd.
Net quantity : 27 g
Best before: look on the package
Imunitetui
Inkstams ir šlapimo sistemai
Sąnariams
Uždegiminiams procesams, antioksidacijai
Out of stock
Vegan