Three Roots Turmeric, organic, Numi Tea, 18 bags
Organic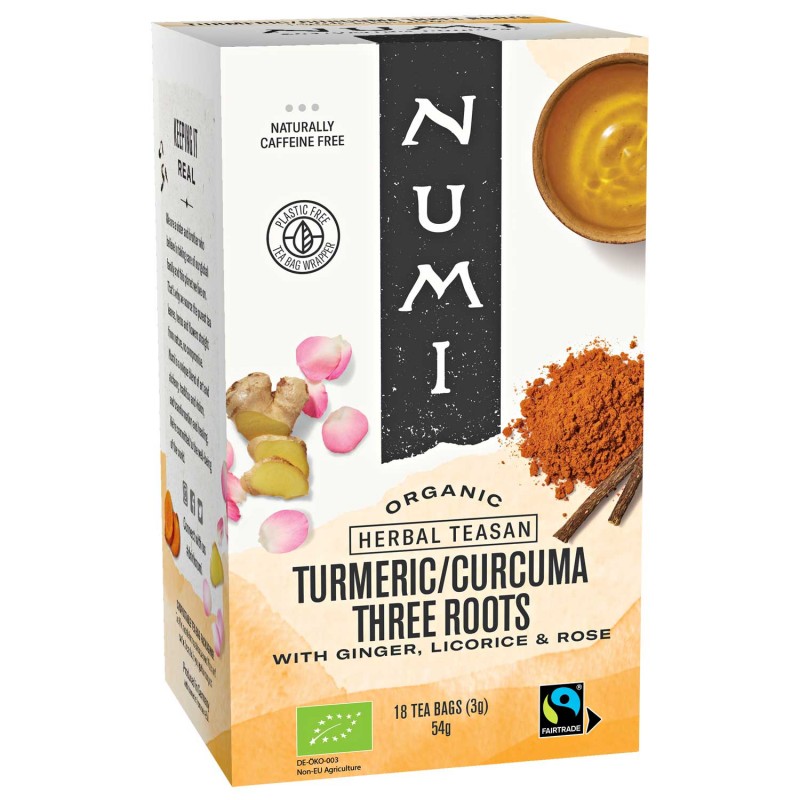 
Three Roots Turmeric, organic, Numi Tea, 18 bags
Organic
Turmeric tea "Three Roots" with ginger, licorice and rose.
Three Roots Turmeric by Numi Tea is a blend of three organic roots (earthy turmeric, spicy ginger and licorice) that transports your senses to a world of exotic spices. Unveiling the complexities of the roots, the flavors of organic roses provide clarity of mind, grounding and upliftment of the spirit.
Features of Organic Triple Root Turmeric Numi Tea:
Alchemy: A seductive blend of three organic roots - turmeric, ginger, licorice and rose.
Tasting notes: earthy, spicy and sweet with seductive floral notes.
Occasion: Main tea at any time of the day.
Caffeine: None.
Instructions for preparing tea: Boil fresh water and pour it over the tea bag after it has cooled down a bit. To release the flavor of the tea bag, relax and rest, and keep it steeped in water for 8-10 minutes.
Ingredients: Turmeric*** (62%), Ginger*** (20%), Licorice*** (15%), Rose Petals* (3%)
* to form an organic certified culture
** Fair Trade Certified™
Storage and use: store in a cool and dry place
Additional Information: Organic, Fair Trade Certified™, GMO Free, Climate Neutral
Origin: non-EU agriculture
Quantity: 18 tea bags, 3g each (54g)
Manufacturer: Numi Europe BV, Amsterdam, The Netherlands