Chickpeas, organic, Smart Organic, 500g
Vegan
Gluten free
Organic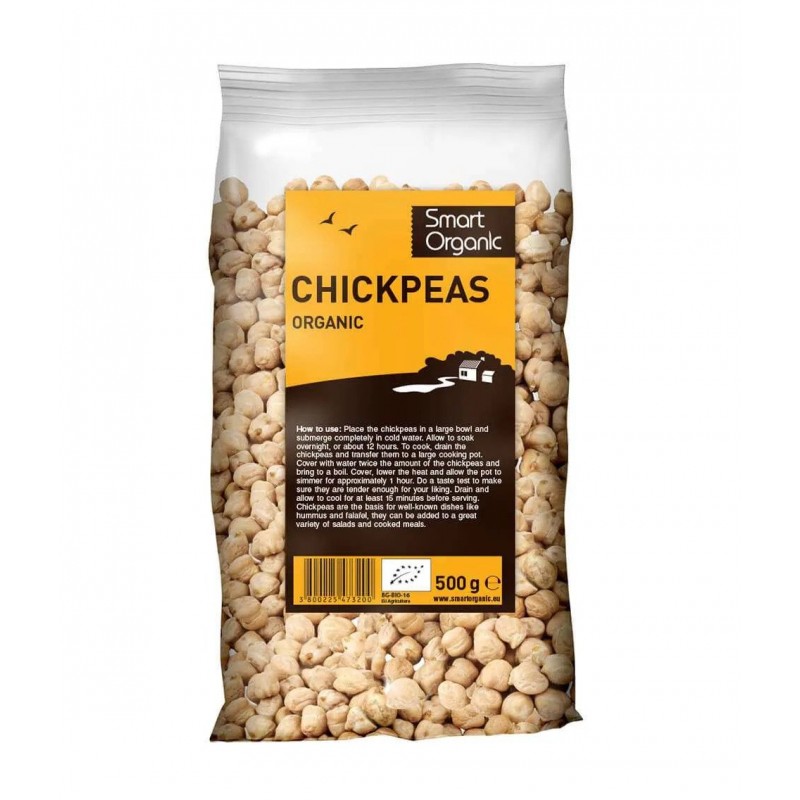 
Chickpeas, organic, Smart Organic, 500g
Vegan
Gluten free
Organic
Enrich your daily diet with nutritious gluten-free chickpeas. These are:
- High in fiber and gluten free
- Contains vegetable proteins
- Stomach-friendly food
- Comes from organic farming
Chickpeas are part of the legume family and have been very popular in the Middle East for thousands of years. Recently, they are increasingly entering the average household. Chickpeas are a rich source of plant protein and fiber, as well as vitamins and minerals. They are known to be beneficial to the digestive system and suitable food for diabetes.
Recommended Use: Chickpeas have a nutty flavor and a grainy texture, making them a perfect match for vegetables, grains, and legumes in many recipes. Great for cooking and seasoning like a nutritious chickpea salad or just frying with spices like a roasted nut snack. Chickpeas are the main ingredient in the favorite oriental sauce - humus.
Nutritional value (100 g): energy value 1664 kJ / 395 kcal, fat 6 g, of which saturated 0.6 g, carbohydrates 58 g, of which sugar 11 g, fiber 14 g, protein 21 g, salt 0.04 g.
Ingredients: chickpeas *.
* Organic certified ingredient.
Ecological product certificate: BG-BIO-22
Storage conditions: Store in a cool, dry and dark place.
Net content: 500 g
Best before: look at the packaging
Origin: Turkey / Italy
Manufacturer: Smart Organic AD, Bulgaria
Similar products
Out of stock
Vegan
Gluten free
Organic
Out of stock
Vegan
Gluten free
Out of stock
Vegan