Herbal toothpaste for sensitive teeth Sensi-Relief, Himalaya, 75ml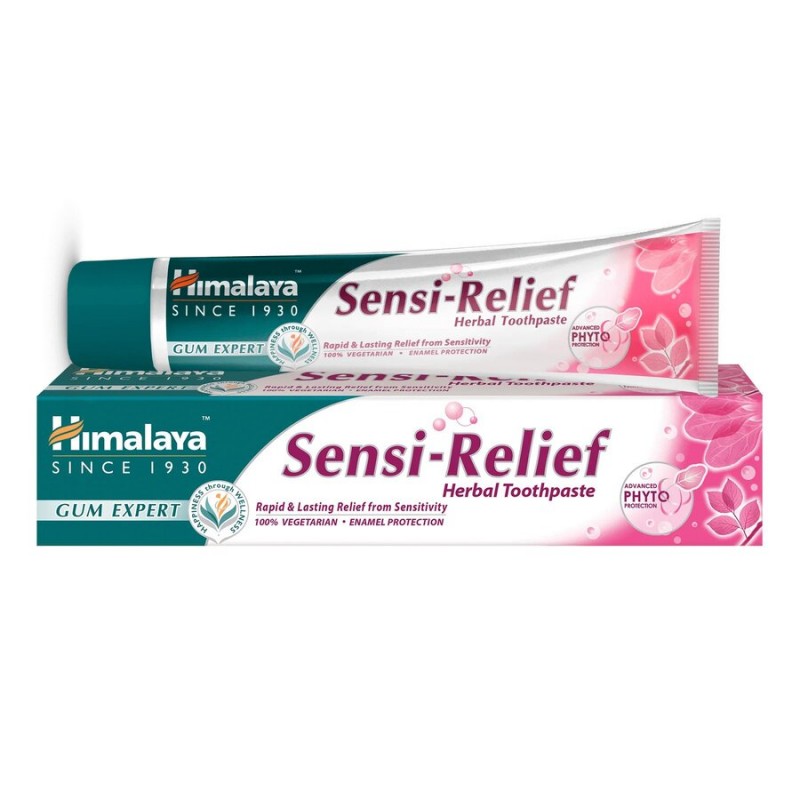 
Herbal toothpaste for sensitive teeth Sensi-Relief, Himalaya, 75ml
"TheHimalaya Herbals Gum Expert toothpaste range contains Miswak and natural astringents to keep gums healthy and protected.
"Sensi-Relief herbal toothpastes are a breakthrough based on advanced phyto-protection that provides fast and long-lasting relief from sensitivity. Sensi-Relief Herbal Toothpaste is enriched with spinach extracts that help reduce tooth sensitivity.
* Fast and long-lasting reduction of tooth sensitivity
* Fluoride-free
* 100% vegetarian
The herbal ingredients in Sensi-Relief toothpaste quickly and effectively reduce tooth sensitivity, strengthen gums, prevent plaque formation and freshen breath. The toothpaste contains spinach extract. It blocks the tubules, the source of tooth sensitivity, protects the enamel and reduces painful sensations when consuming hot, cold or acidic drinks or food. It perfectly heals and strengthens the gums, quickly relieving even very sensitive teeth. It also prevents bleeding gums, ensures long-lasting fresh breath and provides comprehensive oral care.
Sensi-Relief toothpaste's phyto-formula contains key plant-based ingredients such as miswak, menthol, almond and spinach. They effectively protect the gums and teeth. Miswak prevents plaque and tooth decay, menthol provides fresh breath, almond has astringent properties and prevents bleeding gums and spinach reduces tooth sensitivity.
100% vegetarian. Paraben and fluoride free. Provides immediate and long-lasting relief from tooth sensitivity.
Squeeze a small amount of toothpaste onto a soft toothbrush and brush. Spit out and rinse your mouth thoroughly. Do not swallow. For optimal results, brush twice a day. Children under 6 years of age should be supervised by an adult when brushing their teeth. Children under 3 years of age should have their teeth cleaned by an adult.
Ingredients (INCI): Sorbitol, Aqua, Hydrated Silica, Glicerin, Potassium Nitrate, Sodium Lauril Sulfate, Silica, Titanium Dioxide, Xantan Gum, Flavour, Prunus Amygdalus, Dulcis Shell Extract, Salvadora Persica Stem Extracts, Sodium sacharrin, Sodium Benzoate, Potassium Sorbate, Menthol, Spinacea Oleracea Leaf Extract, Citric Acid.
Out of stock
Vegan