Ayurvedic toothpaste cream with clove oil, Himalaya, 100g
Vegan
Organic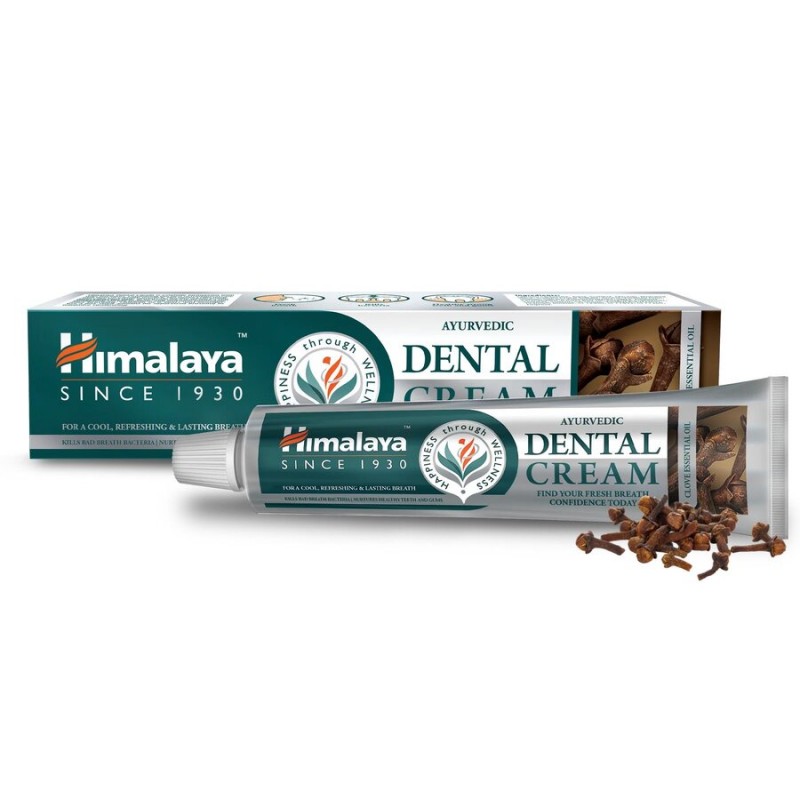 
Ayurvedic toothpaste cream with clove oil, Himalaya, 100g
Vegan
Organic
A unique, clinically tested clove formula for fresh breath every day.
Its antibacterial properties help keep your mouth fresher, cleaner and healthier.
* Fluoride-free
* Kills bacteria for fresh breath
* Healthy strong teeth and gums
Natural toothpaste for a bright smile.
Discover the benefits of "Himalaya Ayurvedic Dental Cream, Clove", a unique and clinically tested toothpaste that gives you a brighter and whiter smile. With a little natural salt, which acts as an effective abrasive, this toothpaste provides a deeper cleaning while protecting against stains. Its caring properties make this toothpaste an excellent choice for maintaining good dental health.
Benefits without fluoride
Himalaya Ayurvedic Dental Cream, Clove is a fluoride-free toothpaste that helps to naturally whiten teeth. With natural anti-plaque abrasives, you can easily remove unwanted plaque and preserve your dental health. The unique formula is gentle on the gums and ensures fresh breath.
Clinically tested and approved by dentists
Rest assured that "Himalaya Ayurvedic Dental Cream, Clove" has been rigorously tested and approved by dentists. Its effective formula has been proven to help promote healthy teeth and gums. With regular use, you can expect better dental health and a radiant smile.
Natural ingredients for holistic dental care
This toothpaste contains carefully selected natural ingredients in the ancient Ayurvedic tradition. The unique combination of clove and natural salt provides holistic dental care that takes care of both teeth and gums. The natural ingredients work together to promote healthy oral health.
Studies have shown that the antibacterial properties of cloves can help fight plaque and gum disease. Natural salt acts as a gentle abrasive to remove unwanted deposits and stains. With this toothpaste, you can benefit from these scientifically proven benefits.
In conclusion, "Himalaya Ayurvedic Dental Cream, Clove" is a natural toothpaste that offers many benefits for your dental health. Natural ingredients, a fluoride-free formula and clinical testing make this toothpaste a reliable choice for a brighter, whiter smile. Give your mouth holistic dental care and feel the difference with "Himalaya Ayurvedic Dental Cream, Clove".
Use twice a day with a soft toothbrush. Do not eat. Rinse thoroughly after brushing. For children under 6 years of age: Brush with a pea-sized toothbrush under supervision to minimise swallowing.
Ingredients (INCI): Calcium carbonate, Aqua, Sorbitol, Glycerine, Hydrogenated silicon dioxide, Sodium lauryl sulphate, Flavouring, Xanthan gum, Sodium silicate, Phenoxyethanol, Silicon, Eugenia Caryophyllus (clove) bud oil, PVM/MA copolymer, Caramel, Sodium saccharin, Vanillyl butyl ether, Titanium dioxide, CI 12490, CI 77492, CI 77266, Eugenol.
Out of stock
Vegan