Food supplement Digestion Power, Planet Ayurveda, 60 capsules
Vegan
Gluten free
Herbal food supplement
Organic
Authentic Ayurveda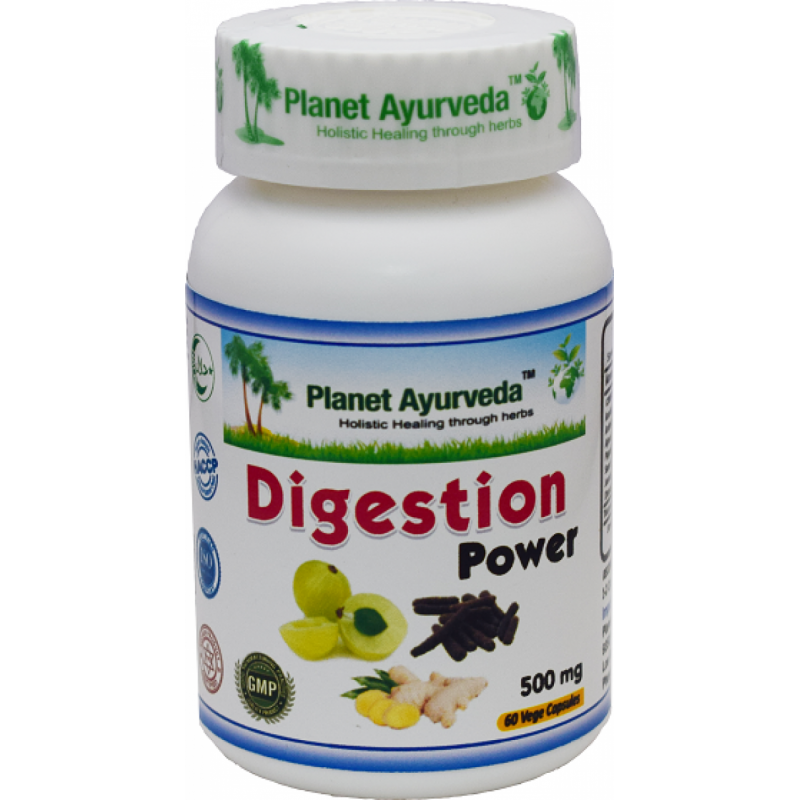 
Food supplement Digestion Power, Planet Ayurveda, 60 capsules
Vegan
Gluten free
Herbal food supplement
Organic
Authentic Ayurveda
Even 500 mg capsules of standardized plant extract, when many manufacturers only use 250-400 mg of plant extract and/or just plain powder from plants.
100% natural origin vegetarian and vegan formula product developed by Ayurvedic experts.
A combination of the best Ayurvedic herbs for digestion.
Digestion Power helps to "rekindle the fire of digestion (Agni)", in other words to activate digestion.
Cotton wool-

 

Pitta=

Kapha–
Digestion Support reduces Vata and Pita and balances Kapha dosha!
Claims approved by the European Food Safety Authority for nutrients contained in the product:
* Indian leaf - supports digestion and sugar metabolism. It helps to maintain a normal blood glucose level, has a mild cleaning effect, and helps to neutralize toxins
* Common fennel - contributes to normal urinary elimination functions, promotes urine release, supports kidney excretory function, supports detoxification systems, promotes urine elimination, promotes kidney elimination functions.
Activate the digestive system:
* Balances the natural pH of the stomach
* Balances unbalanced digestive fire (Agni)
* Reduces vomiting or nausea caused by indigestion
* Promotes healthy digestion
* Eliminates endotoxins
Digestion Power is a potent herbal supplement formulated with effective herbs to boost digestion. The herbs included in this product maintain the natural pH of the stomach, support healthy digestion, improve digestive fire and stimulate the liver, pancreas and intestines to release digestive juices.
Standardized extracts of the best Ayurvedic digestive herbs are used in the production of this preparation, which can be said to have successfully passed the quality, quantity and potency tests. They are packed in vegan capsules - 500 mg of standardized extracts.
Ingredients:
100% standardized extract, each capsule contains:
200 mg of Emblica officinalis extract (Amalaki),
50 mg of ginger (Gingiber officinale) extract (Adraka),
50 mg of Trachyspermum ammi extract (Ajmod),
50 mg of long pepper (Piper longum) extract (Pippali),
50 mg of common fennel (Foeniculum vulgare) extract (Saunf),
50 mg of cumin (Cuminum cyminum) extract (Jeerak),
50 mg Coriander (Coriandrum sativum) extract (Dhanak).
capsule shell - vegetable cellulose (E460),
Contains no flavorings, colorings, sugar, sweeteners, lactose, soy, gluten, wheat, yeast, preservatives, gelatin or soda.
Usage : for adults, take 1 capsule 2 times a day with a glass of water, after a meal. To achieve a better effect, it is recommended to use it for at least 2-3 months.
Warnings: Do not exceed the prescribed recommended dose. The food supplement should not be used as a substitute for food. A varied and balanced diet and a healthy lifestyle are important. If you are sick, taking medication, pregnant or breastfeeding, we recommend that you consult your doctor regarding the use of a food supplement. Stop use and consult your doctor if side effects occur.
Store in a dry place at room temperature, out of the reach of children
Net content: 36.4 g (1 capsule - 500 mg, with capsule 606.7 mg)
Best before: see on the package.
Manufacturer: Planet Ayurveda, Punjab, India
---------------------------------------------------- ---------------------------------------------------- -------------------
Why are Planet Ayurveda™ nutritional supplements effective and superior to most analogues?

1) 100% vegan capsules made from vegetable cellulose, not gelatin.

2) The products use only the most powerful pure standardized 100% natural plant extract and no conventional extracts are used.

3) As much as 500mg per capsule: A vegan capsule is filled with 500mg of a standardized plant extract, while many manufacturers only use 250mg of plant extract or just plain plant powder.

4) High-quality raw material more than 10 times more expensive: the cost of simple powder from plants is minimal, while real plant extract is 10 times more expensive. In turn, standardized plant extract is even more expensive.

5) 100% pure plant product, without additives, excipients or chemicals: most manufacturers fill the capsules with only 250 mg of plant extract, and the remaining 250 mg of the 500 mg are filled with regular powders from plants, chemicals, and other flours to reduce expenses.

6) Extensive laboratory testing: All Planet Ayurveda™ supplements are thoroughly tested in an EU accredited laboratory. These studies include tests on heavy metals (lead Pb, Hg Hg, Cd cadmium, arsenic As) and microbiological (E. coli and Salmonella E. coli Salmonella) content. All products fully comply with EU requirements and are allowed on the EU market.

7) Positive Energy: All products are full of positive energy, bliss and high karma, made from completely vegan/vegetarian capsules for better absorption by the body. and our prices reflect our commitment to providing you and the world with medicinal herbs of the highest quality and combinations.
Out of stock
Vegan