Food supplement Equiline, Jiva Ayurveda, 120 tablets
Vegan
Herbal food supplement
Authentic Ayurveda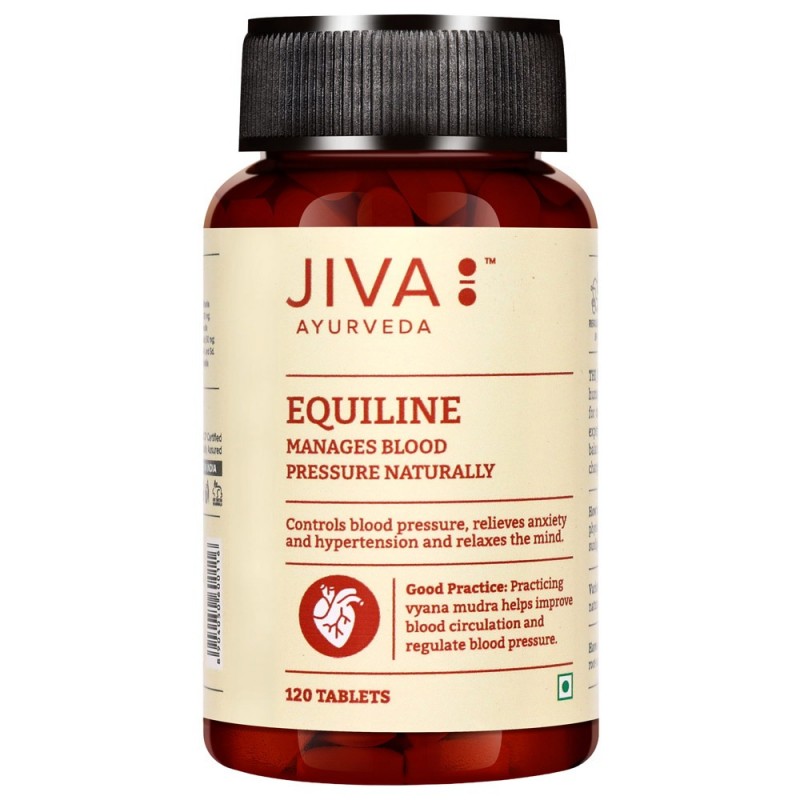 
Food supplement Equiline, Jiva Ayurveda, 120 tablets
Vegan
Herbal food supplement
Authentic Ayurveda
Supplement
120 tablets of 500 mg
100% natural origin vegetarian and vegan formula product developed by Ayurvedic experts.
Equiline is an efficient and effective food supplement that helps maintain normal blood pressure and blood circulation !
Body balance in one herbal blend:
* Ayurveda is recommended for high blood pressure
* Helps maintain normal cholesterol levels
* Recommended for anxiety
* Helps nourish and calm the mind
* It energizes and relaxes the body and mind
Jiva Equiline Tablet contains herbs including sankhapuspi (Convolvulus pluricaulis) and ashwagandha (Withania somnifera) that help reduce anxiety, nourish and strengthen the mind, and help maintain proper energy levels and maximize relaxation. High blood pressure is more associated with Pita and Kapya doshas than Vata type. This supplement is designed to help optimally control hypertension, prevent its complications, and help lower blood pressure to normal levels. All herbs are collected, finely sorted and ground into powder, which is then made into small tablets. Jiva Ayurveda has selected for you quality ingredients from the organic environment and sorted them to ensure unmatched effectiveness. Jiva Ayurveda uses processes that are prepared to give you a balanced product without contamination or loss of potency.
Ingredients (in 1 tablet):
Tablet weight: 500 mg
Amount of herbs per tablet: 500 mg
In 1 tablet:
Asparagus root powder - Shatavari (Asparagus racemosus) - 100 mg
hairy top fruit powder - Haritaki (Terminalim Chebula) - 100 mg
Amla (Emblica officinalis) fruit powder - 100mg
Indian valerian rhizome powder - Tagar (Valeriana Wallich) - 75mg
hypnotic witania root powder - Ashwagandha (Witania somnifera) - 50 mg
including withanolides (5%) - 2.5 mg
Shankhapushpi (Convolvulus pluricaulis) plant powder - 50mg
Brahmi (Bacopa monnieri) powder - 25mg
Contains no flavorings, colorings, sugar, sweeteners, lactose, soy, gluten, wheat, yeast, preservatives, gelatin or soda.
Usage : adults take 1 tablet 2 times a day after meals with a glass of water. To achieve a better effect, it is recommended to use it for at least 2-3 months. One package is enough for 2 months.
Warnings: Do not exceed the prescribed recommended dose. The food supplement should not be used as a substitute for food. A varied and balanced diet and a healthy lifestyle are important. If you are sick, taking medication, pregnant or breastfeeding, we recommend that you consult your doctor regarding the use of a food supplement. Stop use and consult your doctor if side effects occur.
Store in a dry place at room temperature, out of the reach of children
Country of origin: India
Manufacturer: JIVA Ayurvedic Pharmacy Ltd.
Net quantity : 60 g
Best before: look on the package
Širdžiai, kraujotakai, kraujagyslėms
Out of stock
Vegan