Arjuna, Jiva Ayurveda, 120 tablets
Vegan
Herbal food supplement
Authentic Ayurveda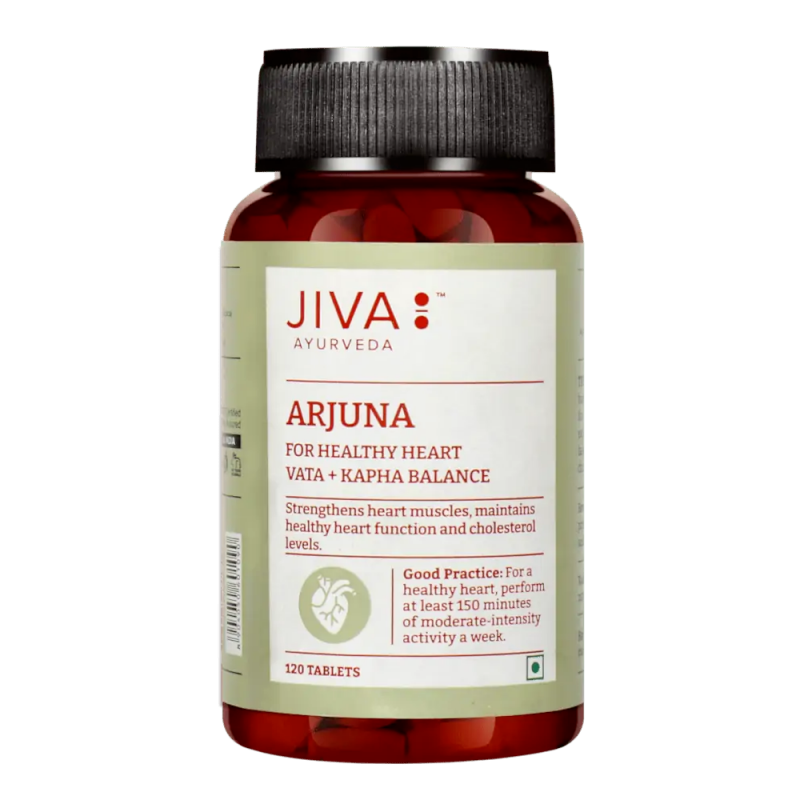 
Arjuna, Jiva Ayurveda, 120 tablets
Vegan
Herbal food supplement
Authentic Ayurveda
Supplement
120 tablets of 500mg each
100% natural origin vegetarian and vegan formula product developed by Ayurvedic experts.
An effective herbal food supplement to support normal cardiovascular activity !
Vata + Pitta – Kapha –
Arjuna increases Vata and calms Pitta and Kapha dosha!
Each capsule contains 500 mg of pure standardized plant extract containing 25% tannins.
Bioenergetics according to Ayurveda:
Rasa (taste) - Tikta, katu, madhur (bitter, pungent and sweet)
Guna (characteristic) - cooling
Veerya (potency) - cooling
* Claims approved by the European Food Safety Authority for nutrients contained in the product:
1. Supports heart health and helps maintain good cardiovascular function.
2. Helps improve liver function.
3. Improves appetite
Jiva Arjun Tablet contains the herbal ingredient Arjuna, which has been prescribed since ancient times for various ailments affecting the vital organs. It relieves Kapha and Pita doshas. Its ability to strengthen the heart muscle is well known even today. Thus, the supplement is useful in heart disorders. It helps control hypertension and reduce diabetes-related complications. Arjuna removes impurities from the blood thus protecting the body from many other diseases. The tablet is prepared from ingredients obtained from nature and sorted through a strict quality control procedure. The ingredients are processed through a complex process that preserves their potency and prevents contamination, giving you the best of the classic treasures of Ayurveda.
Ingredients (in 1 tablet):
Tablet weight: 500 mg
Amount of herbs per tablet: 416 mg
In 1 tablet:
Arjuna bark powder (Arjuna) - 416 mg
binder: acacia resin - 50mg
corn starch - 25 mg
adhesion-regulating substance: magnesium silicate - 9mg
Contains no flavorings, colorings, sugar, sweeteners, lactose, soy, gluten, wheat, yeast, preservatives, gelatin or soda.
Usage : adults take 1 tablet 1-2 times a day with a glass of water, after a meal. To achieve a better effect, it is recommended to use it for at least 2-3 months.
Warnings: Do not exceed the prescribed recommended dose. The food supplement should not be used as a substitute for food. A varied and balanced diet and a healthy lifestyle are important. If you are sick, taking medication, pregnant or breastfeeding, we recommend that you consult your doctor regarding the use of a food supplement. Stop use and consult your doctor if side effects occur.
Store in a dry place at room temperature, out of the reach of children
Country of origin: India
Manufacturer: JIVA Ayurvedic Pharmacy Ltd.
Net quantity : 60 g
Best before: look on the package
Širdžiai, kraujotakai, kraujagyslėms
Out of stock
Vegan