Sitopaladi herbal mixture in powder, Sri Sri Tattva, 80g
Vegan
Authentic Ayurveda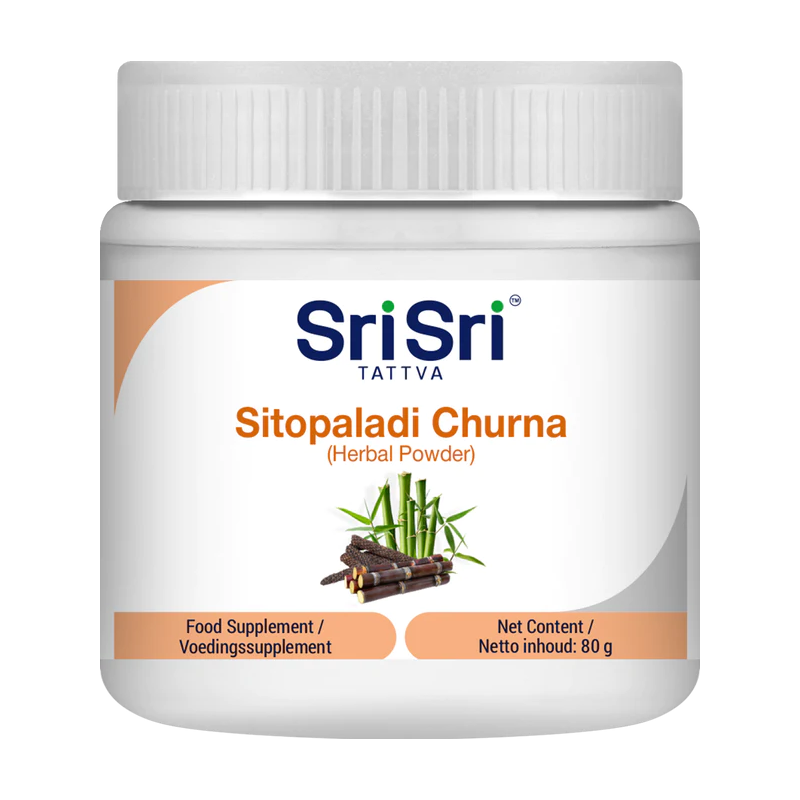 
Sitopaladi herbal mixture in powder, Sri Sri Tattva, 80g
Vegan
Authentic Ayurveda
Sitopaladi is a popular and well-known herbal mixture, recommended in Ayurveda for disturbed Kapha dosha, i.e. colds, mucus in the nose and throat, runny nose.
Sitopaladi Churna consists of bamboo manna (Bambousa arundinacae), pippali (known as Asian long pepper), cardamom and cinnamon. Bamboo is a delicacy in southern India. Cloves are known for their slightly spicy aftertaste and are known for their aroma.
Sitopaladi powder promotes healthy expectoration in broncho-pulmonary diseases and helps maintain proper lung and sinus function, remove excess Vata, Pita and Kapha from the head and chest, and help restore healthy breathing. It has expectorant, cough-reducing, anti-allergic, immunomodulating, fever-reducing, and tonic properties.
According to Ayurveda, Sitopaladi powder is recognized as a rasayana (rejuvenator) and tonic and can be safely used every day.
Method of use:
Internal use (according to Ayurvedic treatises): 3-5 grams 2-3 times a day after meals with warm water, melted butter in ghee or honey or as directed by an Ayurvedic practitioner.
Contraindications: individual intolerance of components, diabetes mellitus, paralysis, tremor of limbs. It is recommended to consult an Ayurvedic specialist before use.
Ingredients: Raw cane sugar*, Pippali* (long pepper), cardamom*, Ceylon cinnamon*, bamboo*
*from certified organic farms
Net quantity : 80g of ground powder
Storage conditions : keep in a dry, cool, dark place out of the reach of children.
Manufacturer: Sriveda Sattva Pvt. Ltd., Uttarkhand, India